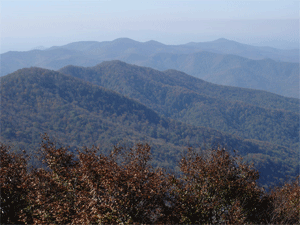 Cherokee Hiking Club
198 Crews Drive, Benton, TN 37307
---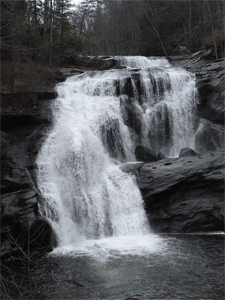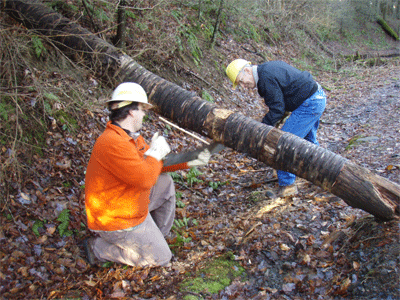 Trail Maintenance
Projects
2018
Jan Feb Mar Apr May Jun Jul Aug Sep Oct Nov Dec
Tellico Ranger District Worktrips
Benton MacKaye Trail Worktrips
Other Worktrips
Every Thurs - Tellico Trail Work Trips. See Tellico Ranger District Worktrips Facebook page
1/4 - Thursday - Tellico Work Trip - Rocky Flats Trail and Pine RidgeTrail in Citico Wilderness. Meet at the Ranger Station at 8 AM. Bring lunch and water and wear sturdy boots and long pants. We will be doing tread work on the Rocky Flats Trail and logging out the Pine Ridge Trail. Wear warm clothes, boots, gloves, eye protection. Bring water and a lunch. We can provide tools.. If questions, contact Rick Harris at HarrisRi@aol.com
1/11 - Thursday - Tellico Work Trip - Rocky Flats Trail, Fodderstack Trail, and Pine RidgeTrail in Citico Wilderness. Meet at the Ranger Station at 8 AM. One crew will continue working on logging out the Fodderstack and Pine Ridge Trails. Another crew will be doing tread work on the Rocky Flats Trail, and a third crew will be using sling blades to clear brush. Bring water, lunch, and helmet, gloves, and eye protection (we have loaners). Also wear sturdy boots and bring rain coat since there is a possibility of a shower (20%). It will be warm Thursday, in the 60s. For questions, contact Richard Harris at HarrisRi@aol.com
1/19 - Thursday - Tellico Work Trip - CANCELLED this week due to slick undrivable roads in the Tellico Ranger District
1/25 - Thursday - Tellico Work Trip - we will continue work on sidehilling on the Pine Ridge Trail. Meet at the Tellico Ranger Station at 8 AM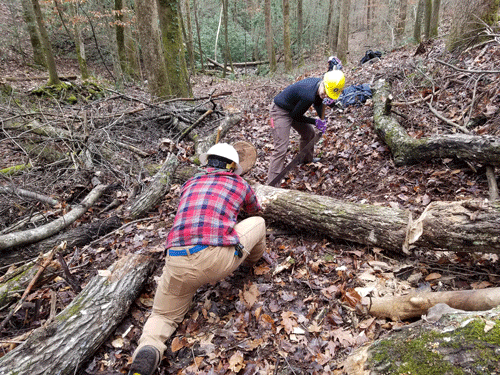 2/1 - Thursday - Tellico Work Trip - Pine Ridge Trail - We will continue to brush out and do tread maintenance of the Pine Ridge Trail in the Citico Wilderness this Thursday. We may also continue to log out the upper section of the trail with crosscut saw. Meet at the Tellico Ranger Station at 8 AM with sturdy boots, daypack with lunch and water, and if you have them - gloves, helmet and eye protection. If not, we can supply these along with the needed trail tools. If questions, contact Richard Harris at harrisri@aol.com
2/8 - Thursday - Ocoee Work Trip - Caney Creek Trail - The work trip this Thursday, Feb 8, will be on the Caney Creek Trail in the Ocoee District. The Caney Creek Trail takes you to the old Caney Creek Village which was a village without vehicles. See http://genealogytrails.com/tenn/polk/Caney_Creek.html for information on this very historic area. One crew will log out the trail and other crews will work on brushing out the trail. Meet at the Ocoee Hardee's at 8 AM ready to go with day pack, water, lunch, and, if you have them, gloves, eye protection and safety helmet. NOTE: WE WILL MEET AT THE HARDEE'S IN OCOEE at the intersection of US411 and US 64, just north on US411. If questions, contact Rick Harris at HarrisRi@aol.com
2/15 - Thursday - Ocoee Work Trip - Cooper Gap Trail - We will meet at the Maple Springs Trailhead at 8:00 for the tail gate safety meeting. From there we will car pool to the Cooper Gap trail. Reports are that there is a section where the little pines are encroaching into the trail. We will also log, and lop, brush out any other places on the trail that need it. It should be a much shorter day than last week. This is not wilderness, so we can use gas powered brush cutters.To get to the Maple Springs TH, drive on TN315 from Reliance or from Tellico Plains (via TN39) to Bullit Creek Road. This turn off is 7.2 miles south of the TN315/TN39 intersection or 7.8 miles north of the Reliance Bridge over the Hiwassee River. From here follow the signs for about another 2.3 miles. You will stay on Bullit Creek Road for 2 miles, then turn left onto Maple Springs Road right where Bullit Creek Road goes straight as an unpaved FS road. If questions, contact Rick Harris at HarrisRi@aol.com
4/23-25 - Monday-Wednesday - BMTA Maintenance Work Backpack Trip - Dick Evans and his crew are going to do a three day, two night work trip on the Stratton Bald to Hangover Section of the Benton MacKaye Trail on April 23-25. He would rate this trip as Moderate, but it will be all over 5,000 foot elevation. Here are the details:
Monday, April 23rd - Meet at Cheoah Ranger Station Parking Area at 3 PM. We will arrange carpool from there. We will drive to Wolf Laurel Trailhead and hike the roughly two miles up Stratton Bald Trail and over Stratton Bald. We plan on camping in the area of Black Spruce on the top, and watching the sun set over Slickrock Valley that evening.

Tuesday, April 24th - We will trim and brush cut on the Stratton Bald-Bob Area while we await the Forest Service ATV bringing up signs, posts, heavy tools, concrete, etc. They will bring the materials to Bob Bald, then leave. We will split into probably two groups, with one heading west to post the sign at end of the Stratton Bald Trail as well as one right at Bob Bald, and the other working easterly along the ridge to the Wilderness boundary. There, we will drop the mechanized tools and continue to Naked Ground to clear that campsite and water source, then proceed to Haoe and post the final sign, then clear along the ridge to Saddle Tree Gap and camp there for the night. After supper, we will go out on Hangover to watch the sun set and the moon rise, as well as seeing a brilliant Venus set shortly after dark over the Fodderstack Ridge to the west.

Wednesday, April 25th - We will return along the ridge, finish any trimming, etc, and clear Stratton Bald trail down to Wolf Laurel area. Probably be out around 2 PM or so.
Please let Dick Evans know if you are interested in joining this effort at Richard Evans or Dick Evans@Frontier.com